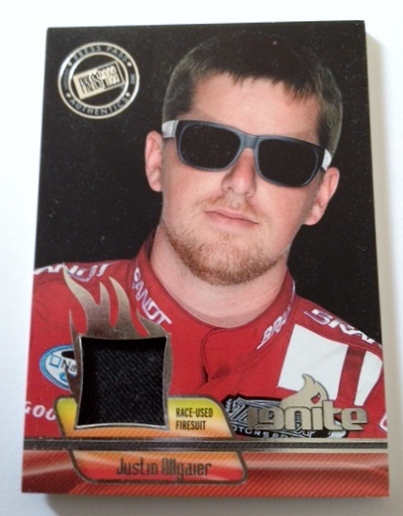 2015 Guest Speaker - Justin Allgaier
The 28-year-old Allgaier is a Riverton native who began his career at age 5 by racing quarter midgets, and he has worked his way up to the top of his profession. He currently drives the No. 51 HScott Motorsports Chevrolet.
At age 13, Allgaier began his stock car career.
In August 2002, he started 29th and finished 17th in the Allen Crowe Memorial 100 ARCA stock car race at the Illinois State Fairgrounds. It was his first ARCA start. At the time, he was the second-youngest driver to compete in an ARCA event at 16 years, 73 days old.
He landed a NASCAR Craftsman Truck Series (now Camping World Truck Series) ride in 2005 with Missouri-based MB Motorsports. He competed in eight races throughout 2005, 2006 and 2008. He posted his best finish of 21st in 2006./p>
Allgaier was a contestant in 2005 on Discovery Channel's "Roush Racing: Driver X." He was the youngest of 25 drivers who competed for a spot on Jack Roush's NASCAR truck series team.
In 2006, he scored his first ARCA victory and it happened in his own backyard. Allgaier won the Allen Crowe Memorial on the final lap, becoming the first local driver to win the event.
He placed third behind Tony Stewart and J.J. Yeley at the pretigous Chili Bowl Midget Nationals in Tulsa, Oklahoma in 2007.
Allgaier's career jumped to the next level in 2008. He signed with Penske Racing to drive on a limited basis in the NASCAR Nationwide Series, a step below Sprint Cup.
Two days after placing 34th in his Nationwide Series debut, he claimed the ARCA championship in his family-owned Chevrolet at Toledo Speedway in Ohio. He finished with six ARCA wins, including the final three races.
Allgaier competed in four Nationwide races in 2008 and placed as high as 11th.
Penske Racing teamed with Verizon Wireless in 2009 and Allgaier became a full-time driver in the Nationwide Series. He won his first career pole in NASCAR at Memphis and was crowned the 2009 Nationwide Series Rookie of the Year after he finished sixth in the standings.
The following season, Allgaier won the first of his three Nationwide victories His first career victory was in March 2010 at Bristol Speedway in Tennessee.
In September 2010, news broke that Verizon would not return to Penske Racing as sponsor of Allgaier's Dodge. He signed later in the year with Turner Motorsports and teamed up with a new sponsor, Springfield-based agriculture services company Brandt Inc.
After five full seasons on Nationwide, the pinnacle of his career was achieved when Phoenix Racing (now HScott Motorsport) announced in August 2013 that Allgaier would make his Sprint Cup debut in its No. 51 Chevrolet the following month at Chicagoland Speedway. He finished 27th in his maiden outing and drove in three additional races
His Sprint Cup gig became full time in 2014. Allgaier led four laps at the season-opening Daytona 500, but took 27th after being involved in a crash. In 35 starts, Allgaier led 16 laps as a rookie.
Within the last five races, he placed 15th at both Charlotte and at the season ender in Homestead-Miami Speedway for his career-best finish in Sprint Cup. He qualified 14th at Homestead-Miami for his best career start.